Health & City Air Balance Reports
Hemet Air Balancing Services
Same-Day Hemet Air Balancing For Commercial Kitchen Hoods & HVAC Systems. We provide certified reports for all city inspections upon completion of testing. Contact us now for all of your Hemet air balancing needs.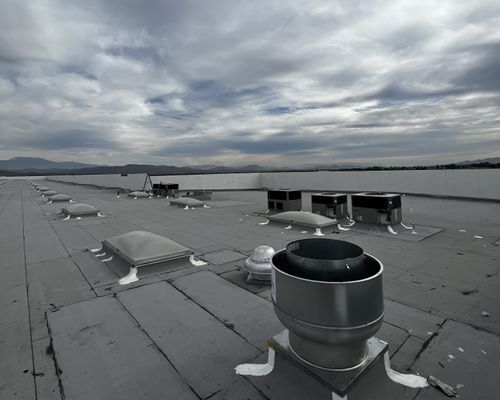 Hemet California is a 27.8 square mile city located in the San Jacinto Valley and next to its neighboring city San Jacinto. Some could say Hemet is an under-rated city in California, and they'd be completely right. Hemet has without a doubt, seen its bad days just like every city has, however, today Hemet shines in the most beautiful scenery, green fields, and tall mountains, and contains some of the quietest communities in the entire Southern area of California. So yes, Hemet is very much under-rated! We are very happy to be able to offer our air balance testing and reports in Hemet, CA.
Hemet Air Balance Reports For Restaurant Exhaust Hoods
Hemet is growing at a very steady rate. According to the last census, Hemet's population has grown almost 10% from 2010 to 2022. Such a steady growth means that business has to keep up with this trend. One growing business our company focuses on that has to keep up with the pace is the restaurant industry. At Delo Air, we do our part in this continued growth by providing certified Hemet air balance reports for new and existing restaurant owners when required by the city, fire department, or health department. All our Hemet air balance reports are, most of the time, available on the same day of testing! Call us today to schedule your air balance report in Hemet California.
When restaurants should use our Hemet air balance testing:
When a certified air balance report for a Health Department Inspection is required
When kitchens are excessively hot and HVAC is working properly
To ensure kitchens are in healthy operating conditions and are actually grade A worthy
HVAC Test And Balance In Hemet, CA
We provide Test and Balance In Hemet, CA for all air conditioning systems for new and existing commercial buildings. With business continuously growing alongside Helmet's population growth, all new businesses that are building new locations are required by law to have an air balance performed on their new HVAC systems. We provide Hemet air balancing reports that meet requirements issued by all city departments. Our independent air balance company meets all AABC, TABB, and all other national standards for commercial air balancing. We are licensed and insures to complete any size air balance project including prevailing wage sites.
Contact us today to perform your test and balance in Hemet, CA today!
Why are we the best Hemet Air Balancing Company?
For starters, we are one of the very few air balance companies in Hemet. There are no other Hemet air balance companies that provide same-day air balance testing and reports as we do.
Second, our focus is on making sure we do everything we can to help our customers pass. We make all the correct adjustments to balance HVAC and Kitchen Hood systems to the airflow requirements they need to operate efficiently. Again passing is our goal.
Finally, we have a full HVAC background. We are probably the only Hemet air balancing company that is a certified HVAC contractor. We have the ability to make small to large adjustments to any building if necessary. No other Hemet air balance company can offer what we can.
The Hemet Air Balance Experts "Near Me"
Contact Us
Fill out this quick form and we will reach out to you shortly!