Ontario Air Balancing Company

We are Ontario air balancing specialists that provide certified testing and reports for commercial HVAC systems and restaurant kitchen hoods for the heath, fire, and city department. Schedule your Ontario air balancing today.
Call Now!
"Certified Reports Available Same Day"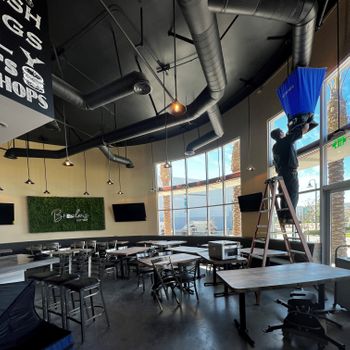 If you are opening a restaurant in Ontario, CA, you might be wondering, "what the heck is an air balance... and why do I even need one?"
Well, the answer is not short and why you need air balancing requires a lot of explanation that you can find on a page we made specifically for our customers.
However, the short answer, which requires trusting us, a 15-plus-year HVAC and air balancing contractor, is that air balancing is not just recommended it is essential to preserving the lifetime of equipment and lowering its energy consumption to a bare minimum.
To the city, saving energy is always one of their largest interests so naturally, they understand the great importance of this procedure.
Again, if you feel you need to learn more about what an air balance is and how it's done, visit our page linked above!
If you have read enough, check out our Ontario air balancing services below and choose which one you need to schedule today!
Certified Ontario Air Balancing Reports 
Delo Air provides Ontario air balancing reports following the completion of every kitchen hood and HVAC air balance project.
For restaurant owners that need an air balance report to be signed off by the Health Department, we provide this exact service. We can, at most times, schedule and provide an Ontario air balance report on the same day!
The following is the same for commercial HVAC. Contact us to schedule now!
Ontario Air Balance Testing & Adjusting For Commercial HVAC Systems
Delo Air provides Ontario air balance testing and adjusting for all air conditioning systems and project sizes.
Following the completion of all of our projects, we compile certified Ontario air balancing reports that are for the purpose of providing to the City for a mechanical inspection.
There is no air balance project we can't complete, call us today to start your next Ontario air balance testing and adjusting project!
Our Ontario Air Balancing Firm meets All TAB standards of AABC, TABB, & NEBB
Delo Air is an Independent Ontario air balancing contractor that fully complies with all test and balance requirements of the well-respected bureaus: AABC, TABB, and NEBB in Ontario.
We can use our Ontario air balancing knowledge and certifications to test a wide array of tasks, such as medical facilities, clean rooms, large building projects, and prevailing wage sites.
What makes us stand out from the rest?
We come from an HVAC background and still are fully licensed and bonded to complete any larger repairs or needed tasks.
We understand how systems work and function further than from any classroom perspective.
So again, as a D-62 air and water balancing contractor, Delo Air complies with all testing practices of AABC, TABB, & NEBB in Ontario.
"The Ontario air balance Specialists near you"
Give us a Call or fill out this quick form and we will reach out to you ASAP!