Hesperia, CA Air Balancing Company
Hesperia, CA air balancing services and certified reports for restaurant kitchen hoods and commercial HVAC systems near you.
"Same Day Air Balance Reports"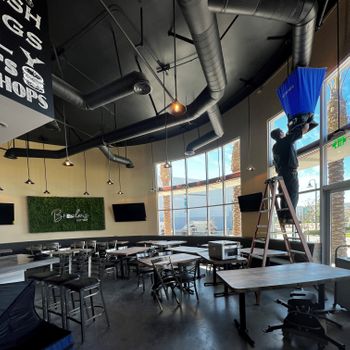 Air balancing has become more demanding in Hesperia, CA in recent years due to the increased growth of more strict regulations being provided by the California Government. Commercial air conditioning is being monitored more strictly to ensure systems are operating to their highest efficiencies. Restaurants are being picked at from every corner by the Health Department to maintain the maximum cleanliness. Hesperia, CA air balance reports are Delo Air's specialty.
When it's time for you to need a professional test and balance performed on your building, call Delo Air!
Kitchen Hood Air Balance Reports In Hesperia, CA
Hesperia, CA is expanding fast, new restaurants are showing up all over the map every single day. It's probably safe to say the majority of new restaurant owners have no idea air balancing is even a thing until the Health Department requires it. If you are one of them, don't worry you are in the right place. The city of Hesperia and every other city in California requires commercial restaurants to have a certified are balance report be provided by a legitimate air balance company and that is exactly what we are and what we provide. Delo air provides certified air balance reports in Hesperia, CA, and its surrounding areas!
HVAC Testing & Balancing In Hesperia, CA
Being as hot as Hesperia is in the summer, Air conditioning is vital for a comfortable and healthy lifestyle. On new construction, state law now requires a test and balance in Hesperia to be performed on all new commercial AC equipment by a certified test and balance company. We provide same-day or next-day testing & balancing in Hesperia, CA for all commercial HVAC system types! Reports are available on the same day in most cases!
We meet all AABC & TABB requirements in hesperia, CA
Delo Air is an Independent air balance contractor and meets all AABC & TABB requirements in Hesperia, CA. We can complete just about every project needed including prevailing wage, clean rooms, and laboratory projects.
"The Hesperia air balance Experts near you"
Give us a Call or fill out this quick form and we will reach out to you ASAP!