Commercial HVAC Services In Riverside, CA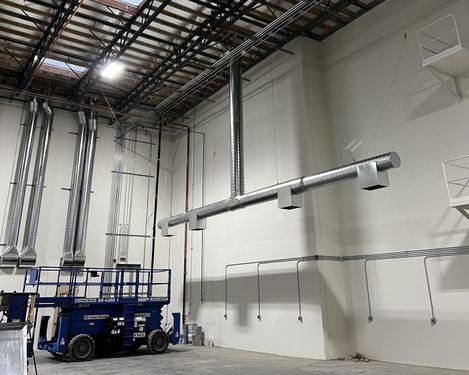 Delo Air has established a well-respected name within the Commercial HVAC industry by delivering outstanding work that has earned Delo Air the exclusive title of currently being the only HVAC contractor directly partnered with the City Of Riverside's HVAC Department. Delo Air commonly and proudly serves locations such as the Riverside Airport, local Fire Stations, local Police Departments, local Libraries, and the famous City Hall... all while serving the local Riverside community. All of Delo Air's certified commercial HVAC installation and repair technicians are extensively trained to ensure that no corners are ever cut and that the craftsmanship that is delivered remains to the highest standards possible.
Commercial HVAC Installation In Riverside, CA
Delo Air provides high-quality commercial HVAC installation in Riverside, CA to all types of buildings and facilities within the City Of Riverside and its surrounding neighboring areas "near me". From light commercial air conditioning replacements to new industrial warehouse construction, Delo Air offers it all.
For commercial projects, Delo Air's expert installers are trained to plan out every project exactly as the stamped set of mechanical plans show it should be completed and adapt to unforeseen challenges if required.
For commercial replacements that do not involve a mechanical engineer, Delo Air starts every project with a precise load calculation that calculates the exact required amount of cooling a building needs.
This ensures the building owner never overpays for larger or more HVAC equipment than needed and that energy consumption stays as minimal as possible. This is the same procedure that is used by mechanical engineers when designing HVAC projects.
After completion of all our commercial HVAC installations in Riverside, CA, we finish with a certified air balance using either the engineered plans or our own engineered load calculations.
Commercial HVAC Repair In Riverside, CA (Fix)
With air quality and temperature being two of the largest factors that determine the comfort levels within a building, commercial HVAC equipment running in optimal condition is an absolute necessity.
Commercial air conditioning equipment keeps temperatures and even the quality within a building down. Most commercial HVAC systems are equipped with fresh air economizers that allow outside air to enter the breathing space to keep dangerous levels of carbon dioxide from rising.
Delo Air has highly skilled and trained technicians on stand by ready to diagnose and perform commercial HVAC repair in Riverside, CA "near me" for all commercial equipment that needs to be up and running again.
Delo Air has been the company that gets called to repair what the last guy couldn't. Call us to schedule an appointment for your commercial HVAC repair in Riverside, CA today!
Commercial HVAC Maintenance In Riverside, CA (Tune-Ups)
According to the Department of Energy, commercial HVAC equipment consumes, on average, about 35% of an entire building's energy usage.
Without a doubt, this research was calculated with properly maintained systems. When systems are not maintained properly and regularly, this percentage can easily climb much higher.
Performing regular commercial HVAC maintenance in Riverside, CA is not only vital to keeping energy consumption to a bare minimum but also prolonging the life of commercial HVAC equipment.
Premature failure of components and entire systems is unfortunately very common, and this is usually caused due to a lack of regular maintenance.
Delo air provides complete and thorough commercial HVAC maintenance in Riverside, CA for all AC equipment in Riverside and its surrounding areas. Call Delo Air to schedule your maintenance today!
Contact Us
We are happy to answer all of your questions, fill out this quick form and we will reach out to you as soon as possible, Thank You!