The Best AC Repair & Installation Company In Moreno Valley

It's that time of year again... hot hot summer. In any air conditioning emergencies call Delo Air! We offer affordable AC services near me in Moreno Valley (Moval) and the areas surrounding it. We are a small 2 man air conditioning service provider, which allows us to keep our quality high and prices low. Whether you need a new central AC system or to fix an existing ones, Delo Air offers it all. We have been fighting the heat in Moreno Valley, by providing AC services, one home at a time since 2006 and we have zero plans of stopping!
Fast AC Repair In Moreno Valley
Our Air Conditioning Company provides affordable top-notch AC repair in Moreno Valley and its surrounding areas. When honesty, quality, and speed matter to you, call us, your local AC experts right away. We are ready to get your home back to being your safe haven from the heat today. Just call, text, or email us right away and we will schedule you as soon as possible!
Best AC Installation In Moreno Valley
Our air conditioning company provides very affordable high-end AC installations in Moreno Valley and its surrounding areas. At Delo Air, installations are something that we are incredibly proud of, and we give each and every one of our new projects our maximum effort. We guarantee every AC system we install will perform to its highest efficiency, that it will lower your electric bill, and will be Instagram picture worthy every single time! We offer easy financing and free in-home consultations and estimates. To learn more on what to expect from a new air conditioner installation, read our page.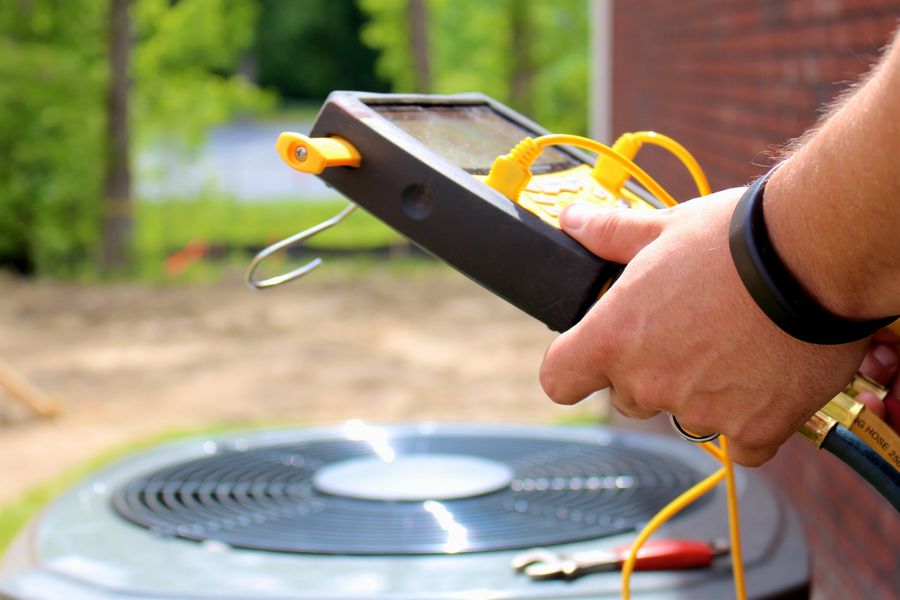 Your Moreno Valley AC Company Near Me
Over the years the honesty, quality, and pride of work have sadly begun to fade away from the AC industry. At Delo Air, our focus is to repair our trade's increasingly infamous reputation by building our company around the following traits... honesty and quality. We are deeply proud of our neighboring city beautiful city Moreno Valley and believe it deserves only the best, so that is what we deliver. We take absolute pride in all of our air conditioning services and strive to deliver the highest quality installations and repairs possible at a price everyone can afford!
Perks Of Choosing Small And Local
More Affordable - Going with a small and local air conditioning company tends to always guarantee more affordable pricing due to fewer expenses to operate their business. The larger an AC company, the more expensive it usually is, and unfortunately, this doesn't always result in higher quality work, it simply means they require more money to operate their business, so they increase their rates to compensate. At Delo Air, we are happy to be able to offer the highest quality work available at prices that our competitors simply cannot beat.
Higher Quality Work - The bigger an air conditioning company grows and the more costly it becomes for them to operate, the more difficult it becomes to control the quality of their work. Having a small company gives the ability to hire much more experienced employees and technicians, and, to be able to monitor their everyday craftsmanship to ensure that the quality remains to the absolute highest standards possible.
A Better Overall Experience - When dealing with a larger HVAC company, it is pretty rare to actually speak with the owner directly. One of the greatest benefits of using a small AC company is that you are, in most cases, dealing directly with the owner of the establishment. At Delo Air, you are dealing directly with the owner/technician... and we guarantee you will receive the highest quality services available near you!
Additional AC Services We Provide In Moreno Valley: