Perris Commercial HVAC Services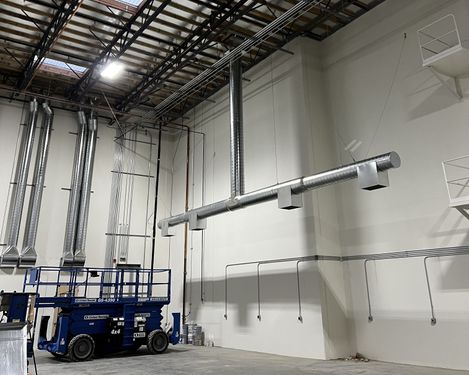 Delo Air has established a highly-respected name inside the Perris commercial HVAC industry by delivering outstanding work that has helped create long-lasting relationships with reputable commercial builders. Delo Air is a Perris commercial HVAC installation specialist and provides comprehensive repair to existing systems as well. All of Delo Air's certified Perris commercial HVAC installation and repair technicians are rigorously trained to ensure that no corners will ever be cut and that the craftsmanship that is delivered always remains to the highest standards possible. All photos on this page are from our most recent commercial HVAC installation in Perris, CA.
Perris Commercial HVAC Installation Experts
Delo Air's Perris commercial HVAC installation specialists deliver quality at the highest standards possible to all types of buildings and facilities. From light commercial HVAC installation in Perris, CA to new industrial warehouse projects, Delo Air offers it all.
For Perris commercial HVAC projects, Delo Air's highly-skilled installers are trained to plan out every project exactly as the stamped set of mechanical plans show it shall be completed and are skilled enough to adapt to unforeseen challenges when needed.
For Perris Commercial HVAC projects that either don't have clear mechanical plans or for any reason aren't following them precisely, Delo Air begins these projects with a load calculation that determines the exact amount of cooling or tonnage a specific building needs.
This guarantees the building owner never overpays for excessive HVAC equipment and that energy consumption stays as minimal as possible. This process is the same that is used by mechanical engineers when planning out new HVAC projects.
Upon finishing all our Perris commercial HVAC installations, we lastly complete a test and balance using either the official engineered plans or our own load calculations.
Perris Commercial HVAC Repair That Lasts
In Perris commercial HVAC is in high demand due to the large amounts of commercial facilities in the area. Perris has become a center stomping ground for businesses to develop warehouse locations for main distribution.
All these locations need air conditioning and HVAC to keep their products to a specific temperature as well as their employees.
Delo Air's Perris commercial HVAC repair technicians provide comprehensive and swift repairing to all commercial facilities in Perris and its surrounding areas.
Our technicians are trained to not only repair a problem but to locate the root cause of it and fix it indefinitely so that it will never arise again.
Upon completion of the repair, our technicians even go the extra mile and assess the entire system to ensure there are no other issues, and confirm the system is running in healthy conditions.
Schedule with us for your Perris commercial HVAC repair today!
Year-Round Preventative Maintenance In Perris
The Department of Energy states that commercial HVAC equipment uses right around 35% of a building's entire energy usage.
When systems are not maintained properly, this number can climb easily from 35% upwards to 50%...
This is why commercial HVAC maintenance is extremely important.
If systems are not installed correctly from the start the number only climbs even higher.
Let our Perris commercial HVAC maintenance experts fully assess your system and provide a detailed report as to how efficient your system is and all deficiencies that are currently in place!
Our commercial HVAC maintenance technicians are trained to follow a set of procedures that have been proven to make a system run smoother, healthier, and last much longer.
Perris Commercial HVAC Air Balance Specialists
Delo Air is not only a Perris commercial HVAC contractor, we are a fully certified D-62 water and air testing company. We are a well know TAB contractor in Southern California.
Not only do we test and provide reports for our own installations, but we also provide certified testing reports for other Perris commercial HVAC contractors and all others in So Cal that need this service.
We are one of the very few D-62 contractors in California. With this knowledge, we are confident to say our installations are passing ready upon completion.
Our technicians are all trained and certified TAB specialists and are taught to proceed with all repairs and installations with the mindset of a TAB master technician.
To schedule testing with us for a certified report visit our commercial testing page.
Contact Us
We are happy to answer all of your questions, fill out this quick form and we will reach out to you as soon as possible, Thank You for considering us for your Perris commercial HVAC needs!